Purdue University Press
The Purdue University Press is pleased to offer A Better Way to Build: A History of the Pankow Companies, a book by Michael R. Adamson.
Book Description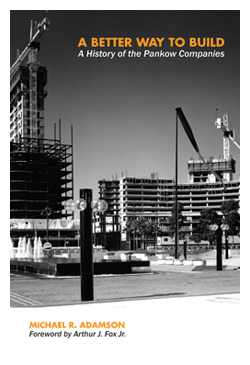 While architects have been the subject of many scholarly studies, we know very little about the companies that built the structures they designed. This book is a study in business history as well as civil engineering and construction management. It details the contributions that Charles J. Pankow, a 1947 graduate of Purdue University, and his firm have made as builders of large, often concrete, commercial structures since the company's foundation in 1963. In particular, it uses selected projects as case studies to analyze and explain how the company innovated at the project level. The company has been recognized as a pioneer in "design-build," a methodology that involves the construction company in the development of structures and substitutes negotiated contracts for the bidding of architects' plans. The Pankow companies also developed automated construction technologies that helped keep projects on time and within budget. The book includes dozens of photographs of buildings under construction from the company's archive and other sources. At the same time, the author analyzes and evaluates the strategic decision making of the firm through 2004, the year in which the founder died. While Charles Pankow figures prominently in the narrative, the book also describes how others within the firm adapted the business so that the company could survive a commercial market that changed significantly as a result of the recession of the 1990s. Extending beyond the scope of most business biographies, this book is a study in industry innovation and the power of corporate culture, as well as the story of one particular company and the individuals who created it.
For more information about the book, click the link below:

A Better Way to Build: A History of the Pankow Companies at Purdue University Press.